Robots are hotel staff !? Henn na Hotel-Maihama Tokyo Bay, is a might just give you a telescope into the future.
At first glance, this appears to be like any other hotel. But inside there are a total of one hundred and forty robots (nine different varieties) working as hotel staff, garnering this hotel widespread public attention for its introduction of state-of-the-art technology.
The Henn na Hotel is located in Chiba prefecture's Maihama city. It was developed by H.I.S. Hotel Holdings, a subsidiary of Japanese travel agency H.I.S. Travel, and is the second hotel of this type following the success of Huis Ten Bosch Hotel in Nagasaki prefecture.
Henn na Hotel: From Check-in to Cleaning, Robots Do It All!
Step into the hotel and the first thing that you see is…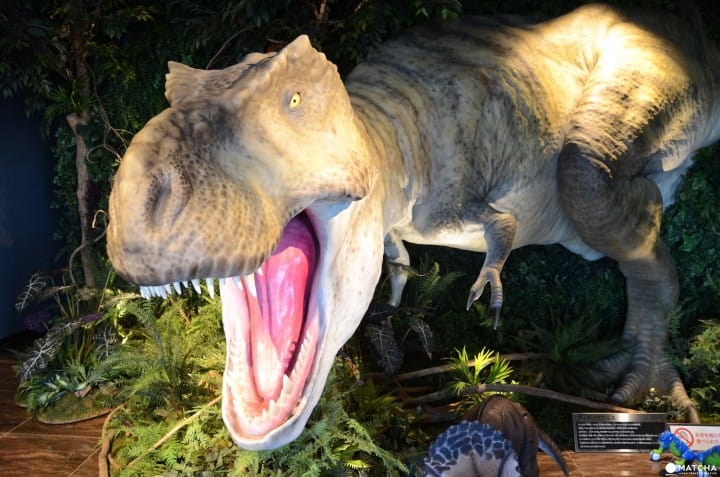 …a Tyrannosaurus! The Tyrannosaurus is life-sized and looks like it's going to leap out and pounce on you!
The manager at the front desk in charge of checking-in and checking-out is also a robot. At the Huis Ten Bosch Hotel in Nagasaki, both a dinosaur-type and human-type robot manage the front desk, but here at Henn na Hotel-Maihama Tokyo Bay, two dinosaur robots are in charge.
When you stand directly opposite one of the robots, it starts speaking in a low, calm voice.
Service here is provided in four different languages, including English, Chinese (simplified), Korean and of course Japanese. For visitors to Japan, all they need to do is place their passport over the sensor to get the check-in procedure started.
Just follow the instructions given by the dinosaur robot and use the touch panel to do the check-in. When complete, you'll be given your room key.
This dinosaur robot uses body language and gestures as it communicates fluently in four different languages, and has even been known to sneeze while on the job, making it all the more charming. By the way, payment is made via the automatic payment device, so this won't take up too much of your time.
Once checked in and as you're heading to your room, you can see a fish robot swimming inside an aquarium. While emitting a colorful light, this robot leisurely moves around the water tank. Just watching this fish made me feel at ease.
Need to clean the windows? You need a robot window washer!
Though it appears that robots are in charge of all duties on the premises,  there are also human staff working here, looking after the hotel's twenty-four hour front desk.
Unique Rooms Stocked with the Latest Conveniences
The hotel guest rooms can accommodate single occupants all the way up to groups of four people. All rooms are unique and the upmost in care is given to the tiniest detail.
What? Is this also a robot? It sure is! Inside the guest rooms there's a concierge robot named Tapia. It will give you all kinds of useful information, including the day's weather report and your own personal fortune telling. Tapia communicates with hotel guests through the process of voice recognition.
Tapia can also play janken (rocks, paper, scissors game).
One optional service is the rental of VR (virtual reality) glasses that give you a glimpse into the world of dinosaurs. With the aid of CG (computer graphics), the dinosaurs have been recreated true to life, and you can see them from the air above and on the ground in a three hundred sixty degree view, making this a powerful and unforgettable experience. The visuals are accompanied by a story line, so children can also enjoy this.
In the hotel corridors near the elevators, capsule-toy vending machines, some which have come from overseas, are lined up. Insert your coins and you'll get a nice Japanese souvenir.
The Henn na Hotel makes full use of the latest robots and technology. But what are the origins of the hotel's name? The hotel's name includes the word "henn" which is also part of the Japanese word "henka", meaning change and transformation. So the hotel's name embodies the sense of spirit and commitment shown by staff towards guests. From here on in as well, the Henn na Hotel will surely continue to undergo further developments, making it a place worth paying attention to.
When travelling in Japan I'm planning to stay with different Japanese families, however I'm certainly going to try one night out in this hotel if I can.